Hayabusa 2.0 Outline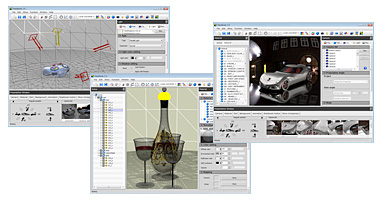 "Hayabusa Renderer 2.0 for Rhino" is a plug-in rendering application for "3D NURBS Modeler of Rhinoceros 4.0".
"Hayabusa" utilizes advanced visualization technology from the Japanese company "nTechnology" to provide real-time rendering performance with maximimizing the GPU's capability. Hayabusa lets you see the final rendered image at all times, contributing considerably to the efficiency and productivity of the design process.
---
What's New
2010.05.11

Website is renewed!
---
Spec
OS: Windows VISTA, XP(SP2), 2000(SP4),7
Rhinoceros: Rhino4.0 SR6 or upper
CPU: Pentium4 2.0GHz or more is required, Core 2 Duo is recommended
MEMORY: 1.5GB or more is required, 2.0GB or more is recommended
HDD: 1GB or more is required
GRAPHIC CARD: DirectX9/Shader2
VRAM 256MB or more is required, 512MB or more is recommended
(Hayabusa 2.0 available Video Card matrix) updated 2011.04.25
Internet connection is required
---